Are you tired of slow loading website? If so, it's now time you think of installing one of the best WordPress caching plugins. Caching not only helps in improving the speed of your WordPress site but also enhances the site's performance. In this blog post, we will discuss the 5 best WordPress caching plugins for your website.
Before we discuss the best WordPress caching plugins, let's first understand what is a cache.
What is Cache?
The cache is a set of temporarily stored data that can be accessed instantly on a request. In computers, data is generally stored on a hard drive. While a piece of information is requested, a computer needs to go through various processes before the information is presented to the end-user.
Caching resolves the issue by processing commonly requested information and later store it into temporary storage. This lets the computer access the files swiftly.
A similar caching concept can be utilized by WordPress sites to enhance the performance and make your WordPress website load faster.
How WordPress Caching Works?
As WordPress is a dynamic content management system, every time a user visits your site, WordPress fetches data from the database and then executes various other steps before a web page is sent to the user's browser.
While several users visit your website concurrently, the whole process will reduce the speed of your WordPress website.
This is where caching is helpful. With caching several processing steps will be skipped. Rather than going through a full-page generation process each time, the cache plugin makes a clone of the page on the first load and offers the cached version to every subsequent user.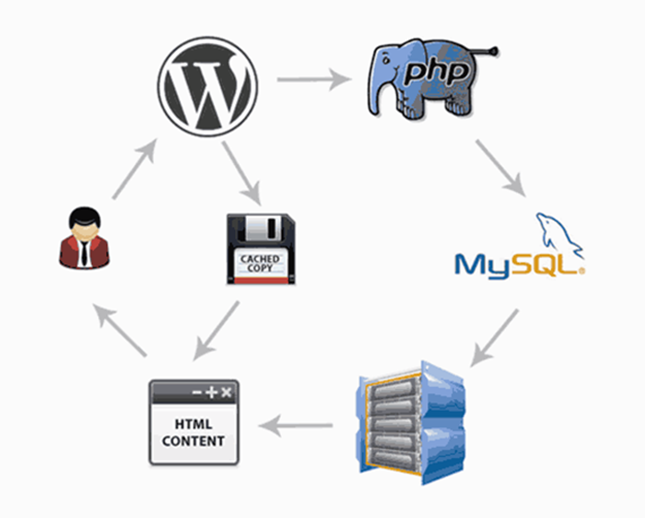 Now, as we saw how WordPress caching works, let's see why is caching important for your website. Then, we will move on to see the 5 best WordPress caching plugins to improve WordPress website speed.
Also Read: Tutorial on How to Flush PHP Opcache
Why is Caching Important?
Caching is essential as it minimizes the load on the hosting servers and makes your website run quicker. You need to set up caching properly to enhance your WordPress site landing page performance.
A faster and quicker website not only improves the website speed but improves the user experience. A faster website will drive in more traffic from the organic search. Moreover, Google considers website speed as a factor and helps faster websites to rank higher in Search Engine Result Pages (SERP).
Hence, it is crucial that you regularly clear wp cache.
Also Read:
Having said that let's take a look at the 5 best WordPress caching plugins that you can use to boost the website's speed.
Best WordPress Caching Plugins in 2021
We have crafted the list of best WordPress caching plugins:
WP Rocket
WP Rocket is one of the best WordPress caching plugins in the market. The plugin is one of the most beginner-friendly WordPress caching plugins and efficient to clear wp cache.
With just one-click, WP Rocket can instantly cache the website. Its crawler automatically fetches your WordPress page to build up the cache. Then the plugin enables the suggested WordPress caching settings; gzip compression, page cache, and cache pre-loading.
WP Rocket additionally incorporates optional features that you can enable to further enhance the website's performance. The optional features provided by the WP Rocket plugin are lazy loading images, CDN Support, DNS pre-fetching, modification, and more.
Additionally, you can read our guide on how to install WordPress plugin.
W3 Total Cache
W3 Total Cache is one of the most popular WordPress caching plugins. It is a comprehensive WordPress caching plugin that consists of several options that may make it appear a bit intimidating for beginners.
It incorporates all the features that you will require to properly clear wp cache. This includes page cache, object cache, gzip compression, limited minification support, CDN support, and more.
WP Super Cache
WP Super Cache is yet another popular WordPress caching plugin. WP Super Cache plugin incorporates all suggested caching features that you will require to improve the performance of your website.
The plugin offers several features like gzip compression, page cache, cache pre-loading, CDN support, advanced-cache preload, and more. It incorporates a complete settings section with different tabs for a simple setup.
Sucuri Firewall
Sucuri is the best WordPress firewall and security plugin. Being a website firewall plugin, Sucuri includes an option to cache the website content and enable gzip compression with a click of the button.
Sucuri is a DNS-level firewall that provides the users with cached content even before the request reaches your website. This as a result will give your website a significant boost.
Comet Cache
Comet Cache has similar features as the previous WordPress caching plugins, but one area it outshines other plugins is the documentation.
Comet Cache is quite simple to install and has an intuitive interface. But what makes it stand out against other major WordPress caching plugins is its documentation. You will find several links and FAQ's to guide you and teach you about caching.
The premium version of this plugin offers the same features as the WP Rocket. Hence, we suggest you try and test both the plugin to identify which one works best for you.
Conclusion
We hope this article helped you find the WordPress caching plugin to speed up your website.
Additionally, caching helps remarkably minimize the load on hosting servers permitting them to perform exceptionally. This is why several managed WordPress hosting companies now offer their own built-in caching solutions.