In this blog post, we will better explain to you what is an XML sitemap and how you can easily create a Sitemap in WordPress. So, let's get started!
What is an XML Sitemap?
An XML sitemap is a file that logs all the content of your site in an XML format. With an XML sitemap, Google can effortlessly locate and index your website's content.
In the early years of the 21st century, several government websites used to have a link titled sitemap on the main pages. Usually, this page contained a list of all pages on that particular site.
While a few websites still have HTML sitemaps presently, the total usage of sitemaps has evolved.
In the present day, sitemaps are published in an XML format rather than their older version (HTML). An XML sitemap describes search engines which links on the site are crucial and how often you update your site.
Though XML sitemaps don't help in enhancing your search engine rankings, sitemap lets search better crawl your site. This implies that your website's content will be more often shown on the search engine result pages. Hereby, result in better search traffic and enhanced SEO rankings.
Suggested For Further Reading:
Why You Require an XML Sitemap?
From an SEO's aspect, sitemaps are quite crucial. Just adding a sitemap to your website won't impact the search rankings. But, if there exists a page that is not indexed, then through a sitemap, search engines will get to know about that unindexed page.
Sitemaps are very beneficial while you first create a blog or develop a new site as several new sites don't have backlinks which makes it harder for search engines to identify their content.
Hence, search engines like Google and Bing let new site owners submit sitemap in their webmaster tools. This lets search engine bots easily identify and index your content. A sitemap is crucial for well-established sites as well. They let you highlight the crucial part of your site.
With that being said, let's take a glance on how to create an XML sitemap in WordPress.
How to Create an XML Sitemap in WordPress?
There are various methods for creating an XML sitemap in WordPress. However, we will be showing you two of the popular methods to create an XML sitemap in WordPress. You can choose any one that best suits you.
How to Create an XML Sitemap in WordPress without a Plugin
This method is quite elementary and restricted. WordPress didn't have in-built sitemaps till WordPress 5.5. But, with the release of WordPress 5.5 in August 2020, they include a primary XML sitemap feature.
This lets you automatically create a sitemap for your WordPress site without using a plugin. You can just add wp-sitemap.xml at the end of your website address, and WordPress will display you with the default XML sitemap.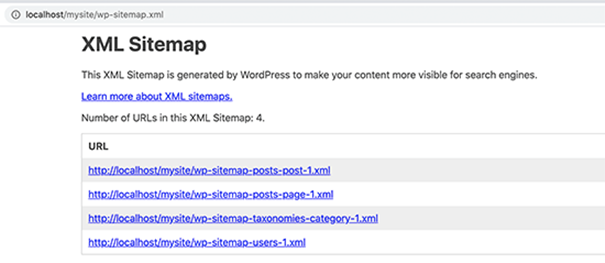 WordPress added the XML sitemap feature so new WordPress sites won't miss out on the perks of the XML sitemap.
But, this method is not very resilient, and you can't efficiently control the things to add or remove from your XML sitemaps.
Create XML Sitemap in WordPress with Yoast SEO Plugin
To automatically generate XML in WordPress, you need to install the Yoast SEO plugin which will auto-generate sitemaps for you. For more information on how to install a WordPress plugin, you can see our step by step guide.
Once activated, navigate to the  SEO » General page and shift to the 'Features' tab. From here, you'll have to scroll down to the 'XML Sitemap' option and assure that the option is turned on (enabled).
Next, save the changes done by clicking the save changes button.
To check if Yoast SEO has generated an XML sitemap, you can click the question mark button next to XML and then click on 'see XML sitemap link' to view the XML sitemap generated by Yoast SEO.
Or else, you can find your XML sitemap by just adding sitemap_index.xml at the end of the website address.
For instance; https://www.abc.com/sitemap_index.xml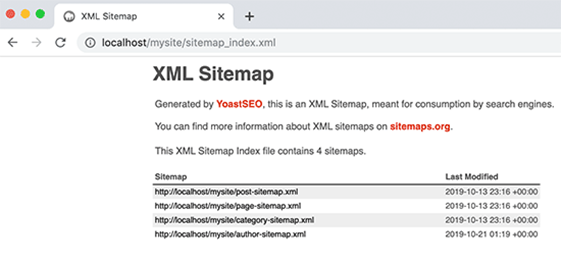 Yoast SEO generates various sitemaps for diverse kinds of content. By default, the plugin will create sitemaps for the pages, posts, author, and categories.
Also Read:
Conclusion
We hope this blog post helped you know what is an XML Sitemap and how to create XML sitemap in WordPress.
Moreover, you can choose 10GB Hosting's cheapest WordPress Hosting plans that offer a free website migration and 1- click installer by which you can install more than 350+ scripts.